Family Resource & Youth Service Center / Community Education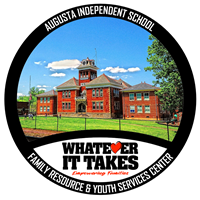 Todd Kelsch
FRYSC & Community Education Director
606-756-2105
todd.kelsch@augusta.kyschools.us
Mission: Our mission is to enhance students' ability to succeed in school by developing and sustaining partnerships that promote early learning and successful transition to school, academic achievement and well-being, and graduation and transition into adult life.

Goal: To remove non-academic barriers to learning as a means to enhance student academic success. To remove these barriers, the FRYSC will link students and families with school and community resources.
Collaboration:
Community Agencies/Organizations/Businesses

School Based Resources and Programs

Parents/Guardians/Families

Students
The more partnerships we can make, the better we can help make a difference in the lives of students and families. Each center offers a unique blend of programs and services determined by the needs of the population being served, available resources, location and other local characteristics.

Basic Needs: The Youth Services Center will address basic needs as necessary including but not limited to school supplies, hygiene products, food, and/or clothing. Resources will be available to assist with future need. **Donations to the Center are always welcome and appreciated**

THE FRYSC HOURS OF OPERATION:

Monday- Friday 7:30 a.m. until 3:30 p.m.