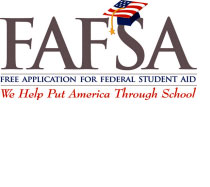 FAFSA stands for "Free Application for Federal Student Aid."

The FAFSA is the central element in the federal student aid application process. The information that students and their parents provide on this form serves as the basis for determining their eligibility for federal student aid. This same form is often used to determine eligibility for state and institutional aid programs.

All students applying for federal assistance must complete the Free Application for Federal Student Aid (FAFSA).
There is no charge to apply for federal student financial assistance.

Many schools also use the FAFSA to award their own financial aid.

Many states also use the FAFSA to determine eligibility for state aid.

The FAFSA asks for:

The student's and his or her parents' financial information, including annual income, taxes paid, untaxed income, current assets, and so on.

Demographic information, including family size, number of students in college, and the student's enrollment status.

The information provided in the FAFSA is used to calculate an Expected Family Contribution (EFC) using a formula mandated by Congress called the Federal Methodology (FM).

The EFC is what the family is expected to contribute to the student's educational costs for a given year. The FAFSA is also used to confirm certain student eligibility criteria by means of computer database matches with various federal agencies, such as the Social Security Administration, the Department of Homeland Security, and Selective Service Administration.